View on the village in 1939

Pictures from Ny-Alesund published in Strijbos J.P. (1957) Svalbard. Zwerftocht langs de koele stranden van Spitsbergen. L.J. Veen's Uitgeversmaatschappij, Amsterdam.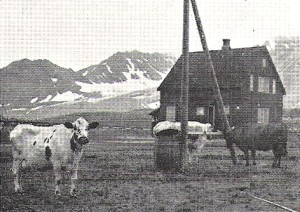 Cows in the village


See also the weblog in 2006 by clicking here.

Below a booklet written by Per Kyrre Reymert on the history of Ny-Ålesund.


---
[home] [about ny-alesund] [village maps] [aerial pictures] [inhabitants] [buildings] [streetview] [history] [webcam] [weather]
---